Philips Respironics announced a voluntary recall for certain CPAP, BiLevel PAP and Ventilator Devices manufactured prior to April 21, 2021.
This recall is due to two issues related to the polyester-based polyurethane (PE-PUR) sound abatement foam used in these devices.
Philips is notifying customers and users of affected devices that they will replace the current sound abatement foam with a new material that is not affected by this issue. Affected devices currently will be either replaced with a new or refurbished unit that incorporates the new material, or repaired to replace the sound abatement foam in customer units.
For more information on the Recall Notice, a complete list of impacted products, and more information, visit philips.com/src-update .
Rotech is committed to providing safe CPAP/BiPAP and Ventilator equipment for all patients.
New 5-year $425 million Credit Facility ORLANDO, Fla.— On December 17, 2020, Rotech Healthcare Inc. (Rotech) entered into a new $425 million amended and restated credit agreement with a diversified group of lenders including Truist Bank, as Administrative Agent, Swingline Lender and Issuing Bank, Citizens Bank, Fifth Third Bank, National Association, and Regions Bank, as Co-Syndication Agents, Truist Securities, Inc., Citizens Bank, Fifth Third Bank, National Association, and Regions Bank, as Joint Lead Arrangers and Joint Bookrunners and Manufacturers and Traders Trust Company, as Documentation Agent (the "Credit Agreement"). The Credit Agreement is comprised of a $335 million five year term loan, a $15 million revolving credit facility and a $75 million acquisition credit facility. The proceeds of this transaction were used to pay a…
Read More »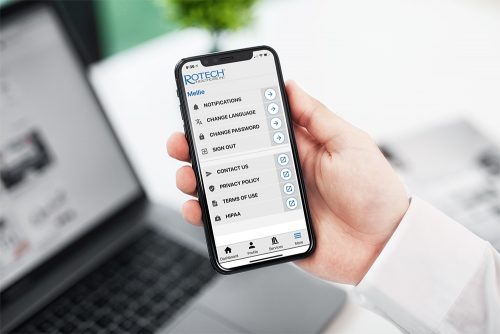 Now your patient information is in your hands! Rotech's new mobile app allows patients to access all of their Rotech account information right at their fingertips.
Read More »