Airway Clearance Therapy with Afflovest®
Rotech offers the AffloVest, an airway clearance device that helps clear chest airways and can be used at home or anywhere. Quiet, portable, and easy-to-use, the AffloVest allows those with Bronchiectasis, Cystic Fibrosis, and other neuromuscular diseases to use airway clearance therapy without impairing quality of life.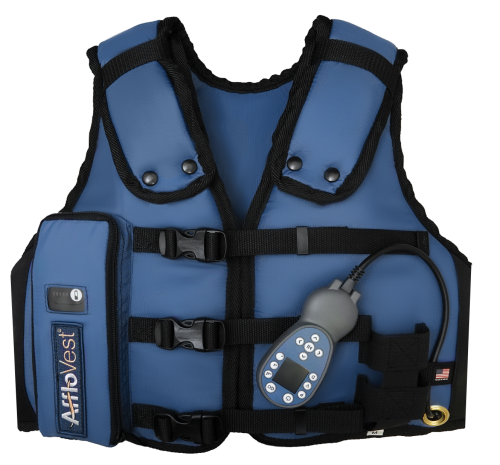 High-Frequency Chest Wall Oscillation (HFCWO) is an airway clearance technique where external chest wall oscillations are applied through a fitted vest. The vest produces vibrations at variable frequencies and intensities to effectively break up mucus and bring it to the upper airways where it can be coughed out or removed. Effective treatment can improve lung function over time, reducing chest infections, antibiotic use, and chronic cough, as well as decreasing hospital admissions and readmissions.
Why should you get your Afflovest from Rotech?
Why HFCWO Airway Clearance Therapy?
Early diagnosis and implementation of airway clearance can reduce morbidity and mortality.1 Airway clearance aims to reduce airway damage by halting the vicious cycle of bacteria and subsequent inflammation, reduce the number of pulmonary exacerbations and hospitalizations and improve health related quality of life.2
Airway Clearance Therapy is considered the cornerstone of therapy aimed at minimizing the effects of airway obstruction, infection, and inflammation in lung diseases such as bronchiectasis. High Frequency Chest Wall Oscillation (HFCWO) is an airway clearance therapy that can help mobilize and loosen secretions in the lungs, which may help reduce exacerbations, hospitalizations, and antibiotic use.
AffloVest Mobile Mechanical HFCWO Vest Therapy
AffloVest® is a proven high frequency chest wall oscillation (HFCWO) therapy designed to provide patients the freedom and mobility to customize and enhance airway clearance therapy, help mobilize lung secretions, and promote treatment adherence for patients with bronchiectasis, cystic fibrosis, and neuromuscular diseases.
Patient-specific therapy with eight anatomically positioned oscillating motors to create individual pressure waveforms to target all lobes of the lungs, posteriorly and anteriorly, to loosen, thin and mobilize the patient's lung secretions. It is designed to mimic the gold standard Chest Physical Therapy.
With seven, lightweight custom fit size variations (XXS-XXL) and adjustable shoulder and chest straps, the ergonomic fit of the AffloVest can accommodate different patients' needs for tailored therapy that fits young children and adults.
The battery powered AffloVest is designed to increase therapy adherence through mobility. The ability to do airway clearance therapy on the go while performing normal, daily activities can provide more consistent therapy compliance and an improved quality of life.
AffloVest Unique Features Include:
Continuous innovation has driven improved product performance and market leading technology. Consistently listening to patient and clinician feedback has allowed for continuous improvement over time to deliver a superior product that patients want to use and clinicians want to prescribe.
The 5th Generation AffloVest has doubled the vibratory force, offers a more ergonomic fit with a 28% weight reduction, utilizes an enhanced digital controller, and has seen an improvement in battery life in comparison to the original AffloVest.
Medicare approved diagnoses for afflovest or hfcwo equipment
Bronchiectasis with Acute Lower Respiratory Infection (J47.0)

Bronchiectasis with (Acute) Exacerbation (J47.1)

Congenital Bronchiectasis (Q33.4)
Bronchiectasis, uncomplicated (J47.9)
Cystic Fibrosis, Unspecified (E84.9)
Cystic Fibrosis with Pulmonary Manifestations (E84.0)
Neuromuscular Diseases
Post-Polio Syndrome (G14)
Glycogen Storage Disease Due to Acid Maltase Deficiency (E74.0)
Spinal Muscular Atrophy, Unspecified (G12.9)
Multiple Sclerosis (G35)
Quadriplegia, unspecified (G82.50)
Muscular Dystrophy (G71.0)
Other Specified Myotonic Disorders (G71.19)
Myopathy, Unspecified (G72.89)
Amyotrophic Lateral Sclerosis (G12.21)
Disorders of Diaphragm (J98.6)
References
Volsko, T. Airway Clearance Therapy: Finding the Evidence. Respiratory Care. October 2013.
O'Neill, K. et al. Airway Clearance . Mucoactive Therapies and Pulmonary Rehabilitation in Bronchiectasis. Respirology 2019.